Anyone who's lived and worked in the Bay Area knows what a typical morning and evening commute looks like: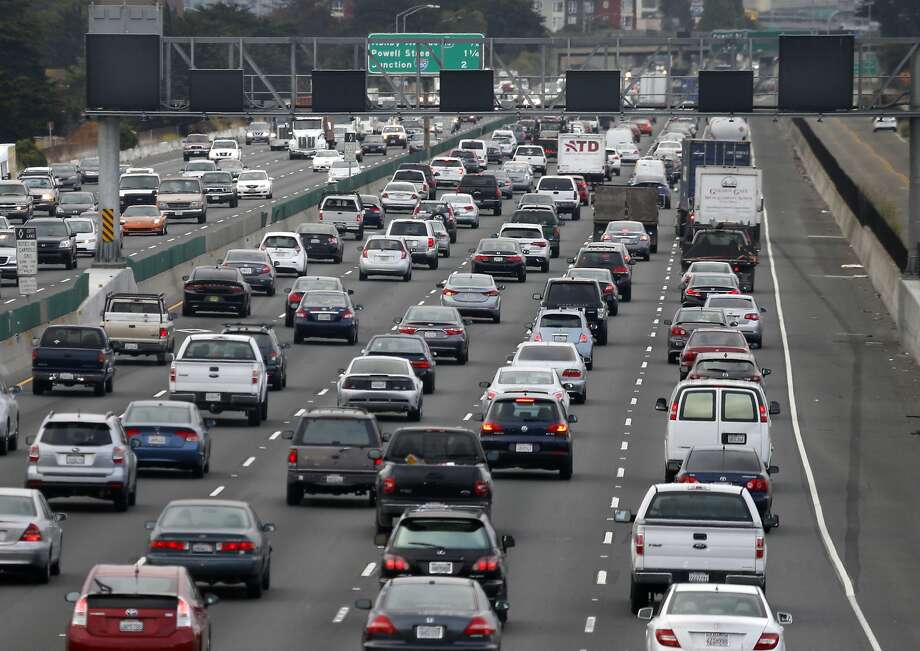 My typical commute these days involves walking up stairs to my home office. Maybe 30 seconds, and so much less stress.
But what happens when I visit clients or attend a Meetup back in the Bay Area? That's where this post will help – I've tried to list all the various ways to get to typical destinations, along with tips from doing this for the last 20 years.
Planes
OK, just had to include this one. I've maybe done that twice, but it was really fun. Best option is to call Gordon at Alpine Aviation. I've flown to Palo Alto and San Carlos – I guess any small airport in the Bay Area is an option, though landing at SFO is possible but more expensive. On arrival you can Uber/Lyft, pedal if you bring your bike, have a friend pick you up, etc. Of course getting back means booking another flight or using other commute options (see below), unless you want to pay $100/hr for the plane to wait at the airport for your return.
Trains
My go-to option for getting to/from the Bay Area. The best option currently is to leave Nevada City at 5:45am, grab an espresso at Dutch Brothers drive-through in Auburn, then park & catch the 6:35am Capitol Corridor. I usually buy my ticket at the (outdoor) station machine, but lately it's only been operational maybe half the time, so online is a safer bet.
This train gets into Richmond at 8:59am, though that's in theory, not in practice. It's often a few minutes late, so I usually assume I'll need to catch the 9:12am BART from Richmond to downtown San Francisco. Transferring from Amtrak to BART is easy, you walk down the stairs at the Amtrak platform (or take the elevator), and then walk 100ft to the BART entrance.
That particular BART train is the red line, and gets you to the Embarcadero station in SF at 9:48am. Once you're in SF, it's pretty easy to use Uber/Lyft to get around, though I've used one of the numerous scooter rentals just for fun.
Automobiles
Sigh. Yes, you can drive to the Bay Area. If traffic is light, it's about 2.5 hours to Berkeley and 3 hours to Palo Alto. But these days it's never smooth sailing, unless you're going at some crazy hour like 11pm or 4am.
If you wind up having to drive during less optimal times, or there's an accident on I-80, then you have a few creative alternatives to the standard 49/80 route. One of my favorites is to use Highway 20 and Hammond-Smartsville Road for a fun car ad-style undulating drive through beautiful open fields near Beale Air Force base.
Bikes
No, you don't want to ride from Nevada City to San Francisco. Though you could, and it's on my bucket list. But a bike is handy once you get to the Bay Area, if you want a bit of exercise and/or choose to avoid Uber/Lyft or (shudder) the bus.
Bringing your bike on the train is easy, as they have bike racks in most of the cars. Hauling your bike up and down the stairs at train & BART stations can be painful, though the elevators are usually running. BART is generally good, though during morning and evening hours there are some trains that don't let you take bikes; also don't be That Commuter who tries to get into the first car with your bike.